CREATIVE EIGHT
8 Questions with Claudia Castillo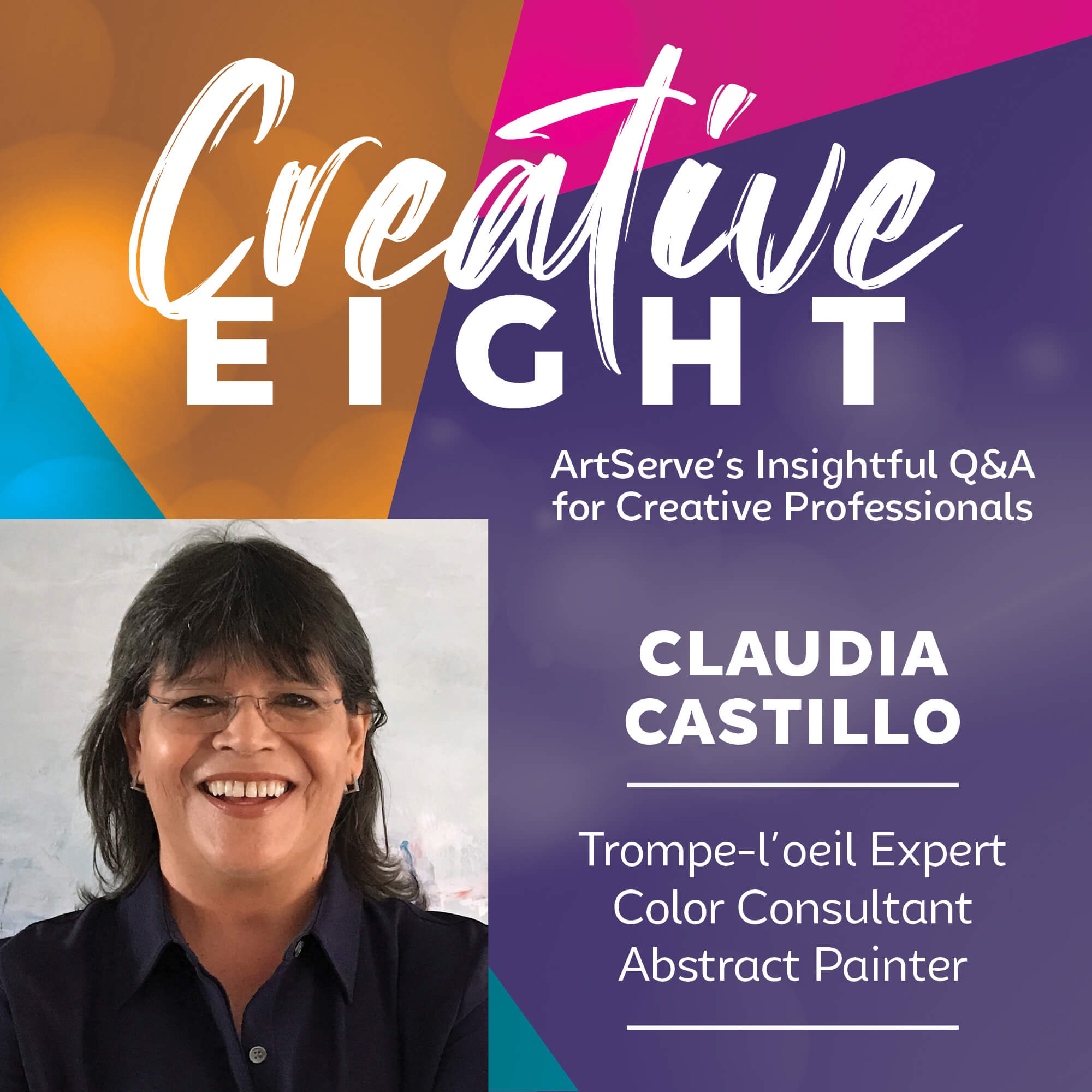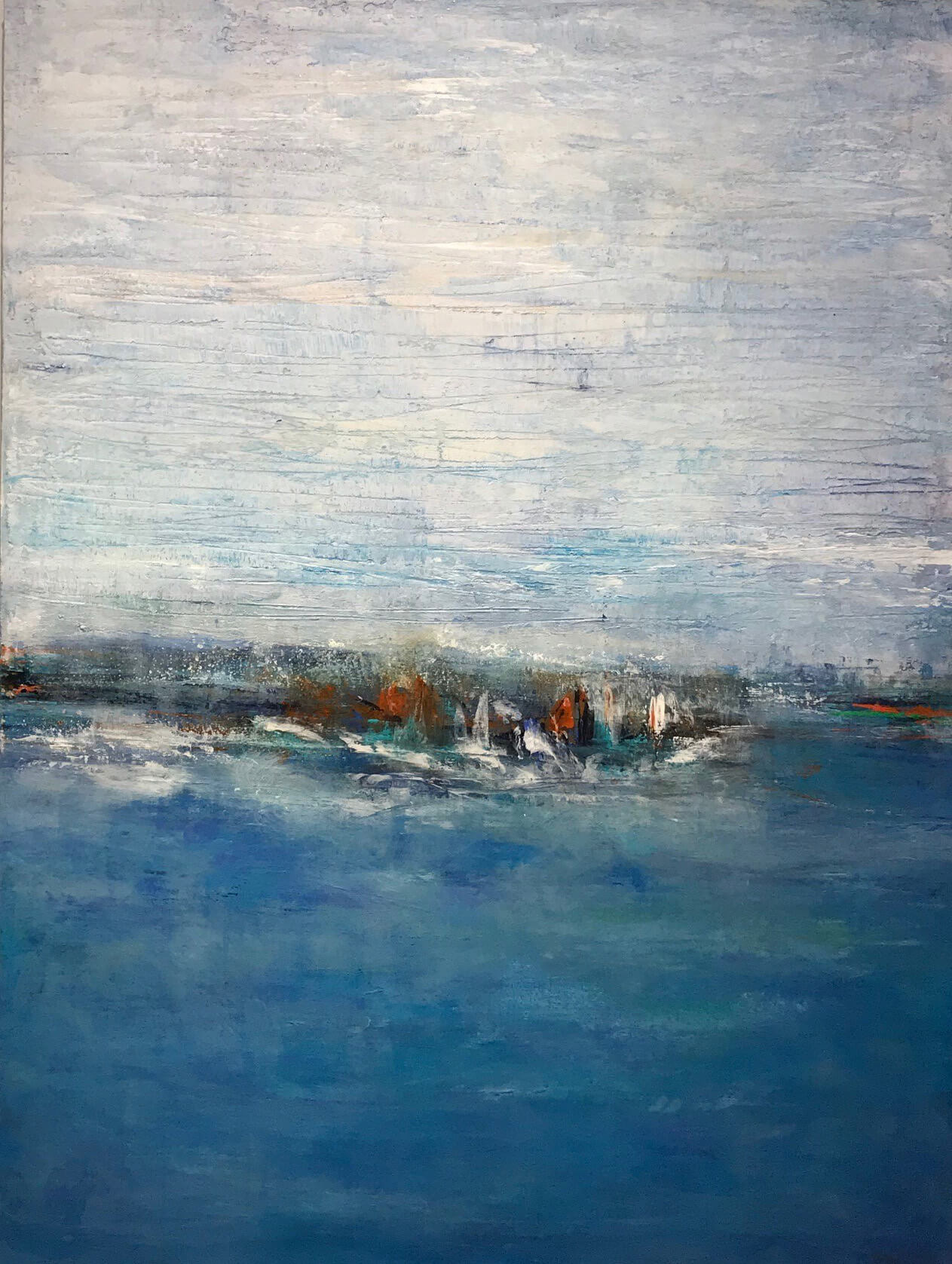 1. What situation or person motivated you to pursue art?
As a child, I was always very interested in art and design. I collected drawings and illustrations that impacted me. I had the opportunity to visit many museums and private exhibitions and the things I saw and experienced have made such a strong impact in my life. They inspired me to learn the language of the art and yearn to learn more about colors and techniques.
I am still learning each day. I believe that 'art' is a refuge, and when you paint, you never feel alone. I express my feelings and emotions through my art to make a connection with people.
2. From where do you draw your inspiration to create art?
My inspiration comes from the emotions evoked from nature, earth and water and from the moments that bring me peace and reflection. The oceans are a great inspiration to me because of their grandness and the fluidity of the movement of the water that is never the same.
I draw upon the emotions and feelings I perceive in the world to create my own sense of realism which is a transformative abstraction reflecting the unique reality of continual change. Like Matisse said: "Color was not given to us in order that we should imitate nature, it was given to us so that we can express our own emotion"
3. What emotion are you trying to create for your audience through your art?
My work tries to convey harmony, and inner peace. I want my paintings to have a special meaning for the person that acquires them and I see my art as the vehicle to communicate and make a special connection between the viewer and me.
My goal is that the viewer sees my abstraction of reality and that it inspires in them a memory, or special moment in their life where they had joy, happiness or other emotions.
4. Does an artist have an obligation to make a statement with their art?
Not necessarily, the artist creates what she/he sees and feels and it is up to the each person to interpret the art through their lens and experience the personal emotions it evokes specific to their life's journey.
An artist should however write an artist statement to accompany the art piece to express the artist's own story and give the viewer an insight on the artist's vision and inspiration in developing the painting.
Some artist do use their art as a platform to make a social and political statements and I respect that, however my art is intended to create a personal connection with the person that acquires my work and to inspire them through their individual interpretation and life experiences.
5. Was there ever a time when giving up was the right thing to do?
No, I do not believe in giving up or quitting anything I do. I have experienced many challenges in my life and strongly believe you have to persevere and learn from each experience. One has to focus on the fact that each experience, good or bad always takes you to a better place.
To truly appreciate the great moments you must have experienced adversity in your life. Though I navigated many challenges in my life and with my career change, my desire to succeed has guided me and helped me overcome each challenge because I never gave up. For me everything has been well worth it, as I now have my family and my studio, which was a lifelong dream that I have fulfilled.
I founded Claudia Castillo ART studio, a boutique art gallery in the heart of Wilton Manors that provides a unique variety of quality original artwork, gifts, jewelry, and collectables for everyone.
6. Is there something in your past career that would surprise people?
I actually studied communications at Pontificia Universidad Javeriana in Bogota, Colombia. I changed my career as a radio and television producer and left Colombia as an adult to come to this country to expand my studies and pursue a career as a designer and artist, which was something that I had always wanted to be.
7. What do you see as the most important attributes of a successful artist?
I believe that all artist have to continually study to stay relevant with mediums, textures and new techniques. And it is very important for an artist to have a business and marketing background and education to be able to understand other elements that are critically important to succeeding in the field.
8. What is the most valuable life lesson you learned from creating art?
I have learned that throughout the ages, the feelings and emotions that an artist creates are timelines and have been the same for all artists since the beginning of time.
We all start with a blank canvas or with just an idea, however we each develop it and leave a part of ourselves with every art piece that we create. For me being an artist is the most rewarding profession as it touches people's soul in a special way.
ARTIST CONTACT
www.claudiacastilloartstudio.com
Facebook
Instagram
954.274.7047